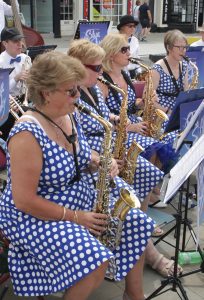 Blue Sky Big Band specialises in performing traditional Big Band swing music, popular jazz and even some rock & roll. We consist of over twenty passionate, amateur musicians featuring four sections: saxophones, trumpets, trombones, and a rhythm section.
We are based in Berkshire and play at local venues including Wokingham, Newbury, Reading and Windsor, plus more distant settings such as Brighton. We have taken the band on tour to South Wales, playing at the fringe event of the Brecon Jazz Festival as well as in Brecon Cathedral during the last few years.
The band can be seen regularly performing in public; we have music packed summers playing at bandstands and parties and in indoor venues during the cooler months.
Click the button below to find out where and when we are playing next.
We play at special events, private parties and celebrations.
Complete our contact form for further information or advice or to subscribe to our newsletter.
Blue Sky Big Band plays predominantly Jazz and Swing style music, typical of the Big Band era of the 1940s. We cover music from many composers and artists including Glenn Miller, Duke Ellington, Woody Herman and Louis Prima to mention but a few. Our repertoire also includes a number of modern pieces but everything we play is suitable for dancing and easy listening.
Our Band has a traditional Big Band format with Saxophones (Alto, Tenor and Baritone), Trumpets, Trombones and a Rhythm section which comprises Drums, Double Bass/Electric Bass, Keyboard/Vibraphone and Guitar.
We are based in Wokingham in Berkshire and have played at a wide range of locations in the Berkshire area as well as places further afield. We perform at bandstands, local churches, at private parties and functions and at occasional charity events.
We are always happy to play at new venues and at all events. Please visit the Booking Enquiry section of this website should you wish to discuss a potential booking.